Marisa Nathan
Confianza Senior Consultant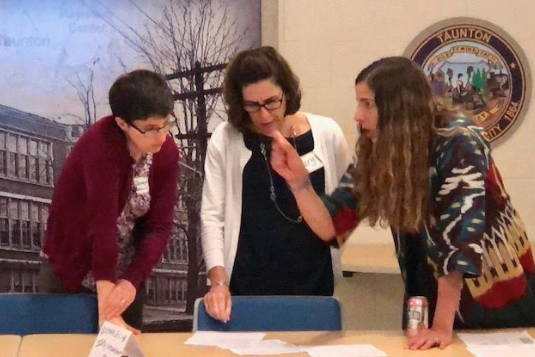 From a very young age, Marisa was awakened by culture due to her mother's endless commitment to helping refugees with resettlement in the Twin Cities Metro area. Marisa's home was filled with Vietnamese, Hmong, Liberian, and Somali families ever since she can remember. These experiences along with having her first generation Italian immigrant grandmother live with her, helped open her eyes to a global perspective.
Marisa continued her love for culture and diversity by working in education for the last twenty years in unique cultural settings. These include an Ojibwe school in Minneapolis, MN, a Somali school in St. Paul, MN, as well as several Spanish bilingual/dual language schools in the Milwaukee, WI area. Having so many experiences in different school systems has helped her develop an eye for analyzing systems issues and looking at the big picture in order to help create equity and access for ALL students.
"Confianza has transformed the way my team of teachers and support staff think about our instruction and implementation of curriculum. I have seen an immediate shift in mindset as well as a sustainable shift in the way our teachers backward plan. Confianza has given the tools to keep the rigor high for ALL students in our urban setting and to close achievement gaps. Our Confianza Consultant, Marisa is extremely engaging and has had rave reviews from all members of our team. She inspires all of us to have an asset based mindset and to celebrate the diversity in our building. Confianza has been a blessing to our teacher team, support staff, students, and families."
-Carly Hertel, Principal St. Martini School, LUMIN Network, Milwaukee, WI
Marisa's expertise is rooted deep in English as a Second Language as follows:
Graduate Program in ESL from Hamline University, St. Paul, MN 2016

Twenty years experience as an educator, including teaching, mentoring and instructional coaching at the elementary, middle school, and high school levels

English Language Development and Advanced Learning Coordinator for the School District of Waukesha, Waukesha, WI

Adjunct Faculty for Carroll University and Viterbo University

WIDA PRIME V2 Correlator
Marisa is a national and international speaker and presenter including: 2018 and 2019 National WIDA Conference, 2019 International TESOL Conference, 2019 State WIABE Conference, 2019 AAIE International Conference, 2019 Learning Forward Conference
"I'm sad that I have just learned about Confianza but ecstatic to implement what I learned and to continue researching. The collaboration between Confianza, Teaching Tolerance, Teaching Channel, WIDA and Re-imagining Migration has sparked more passion in what I do everyday with teachers and students. I am already developing my yearlong action plan on how I can use my new knowledge to light or re-light instructional passion in my colleagues. This was a beautiful PD and offered at the right time with what is going on in the world. I will pray that Marisa and Confianza continues to positively impact leaders across the nation. You were fabulous!"  
-Shannon Gibson, Academic facilitator, Dynamic Learning Project Coach, Charlotte Mecklenburg Schools, Charlotte, NC