Our Name
At its core, confianza is a cultural concept meaning mutual respect and trust. Respect changes the status quo and communities are built on trust. Confianza manifests this concept in building strong relationships and understanding your exact needs to create an effective plan from the classroom to the board room. Together what we accomplish is limitless.
Our Approach
Confianza's Professional Learning Partnerships are collaborative, co-created and co-implemented around the needs of students and educators. We respect the knowledge of the communities we serve and strive to empower the educators we work with so that they can transfer the competencies from our activities to their unique context.
Our Vision
Confianza envisions an educational and organizational landscape where all leaders and educators are prepared to provide access and opportunity for culturally and linguistically diverse learners through an equity-based mindset and corresponding practices for language and literacy across the entire system.
Our Mission
Confianza's mission is to increase outcomes in schools and organizations by improving cultural understanding, communication and collaboration.
Our Theory of Change
We promote an inquiry-based approach when we collaborate with schools and organizations to identify opportunities through a needs-specific professional learning. This allows mindsets and practices improve, leading to increased achievement, opportunity and equity for students.
Thank you to Dr. Candace Bocala and Harvard Graduate School of Education's "Learning from Practice: Evaluation and Improvement Science" and her graduate students for support with Confianza's Theory of Change.
Our Commitments
As a social enterprise focused on anti-bias, anti-racist practices and systems change, Confianza is are committed to supporting and elevating the voices of those who are not historically heard. This includes two ongoing activities:
-bringing in entrepreneurial women to the Confianza Team and supporting them as a professional learning community
-donating to organizations with like-minded missions, including RAICES, Playing for Change and ACLU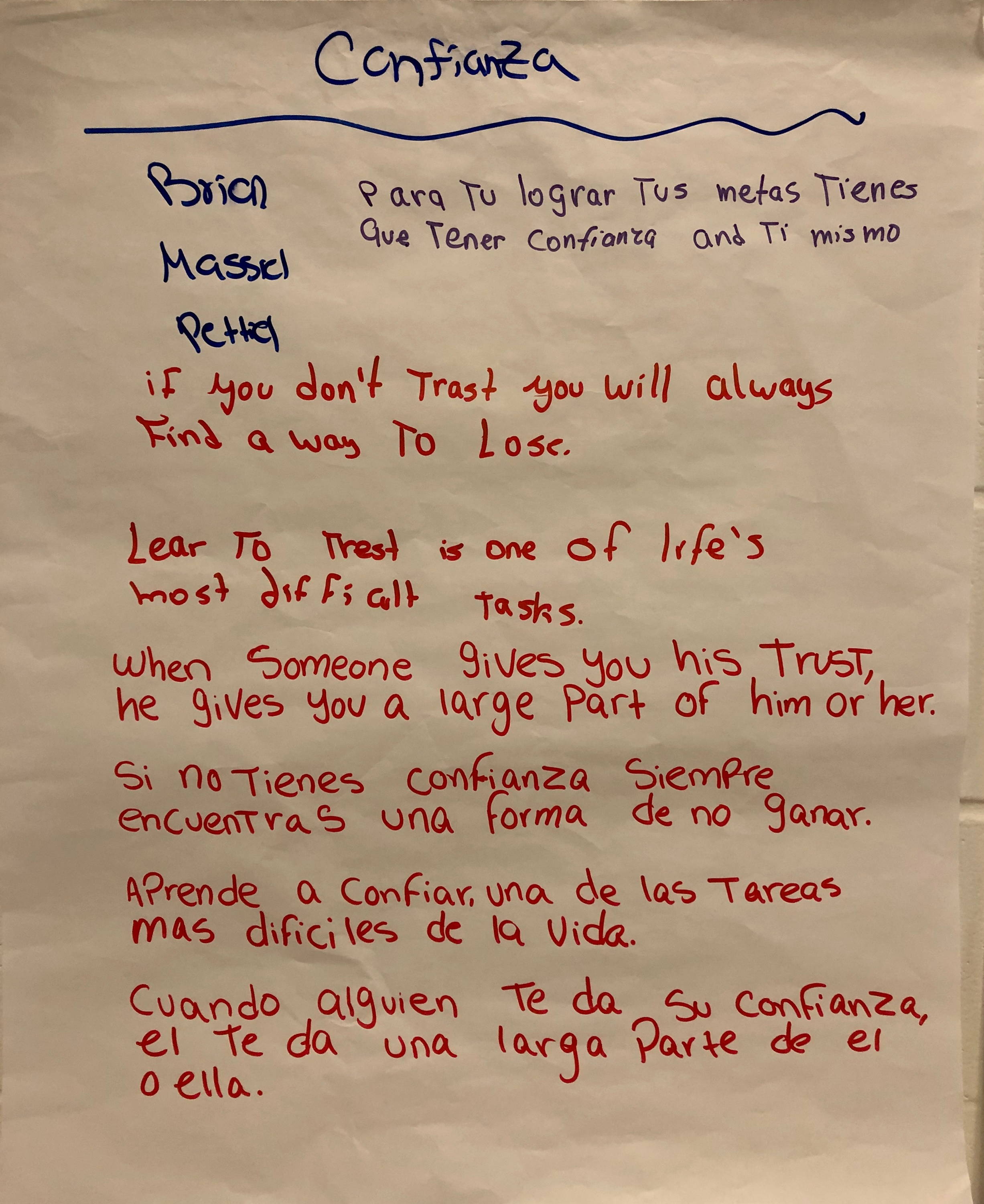 Thank you to ENLACE Academy for sharing what confianza means to students there (above).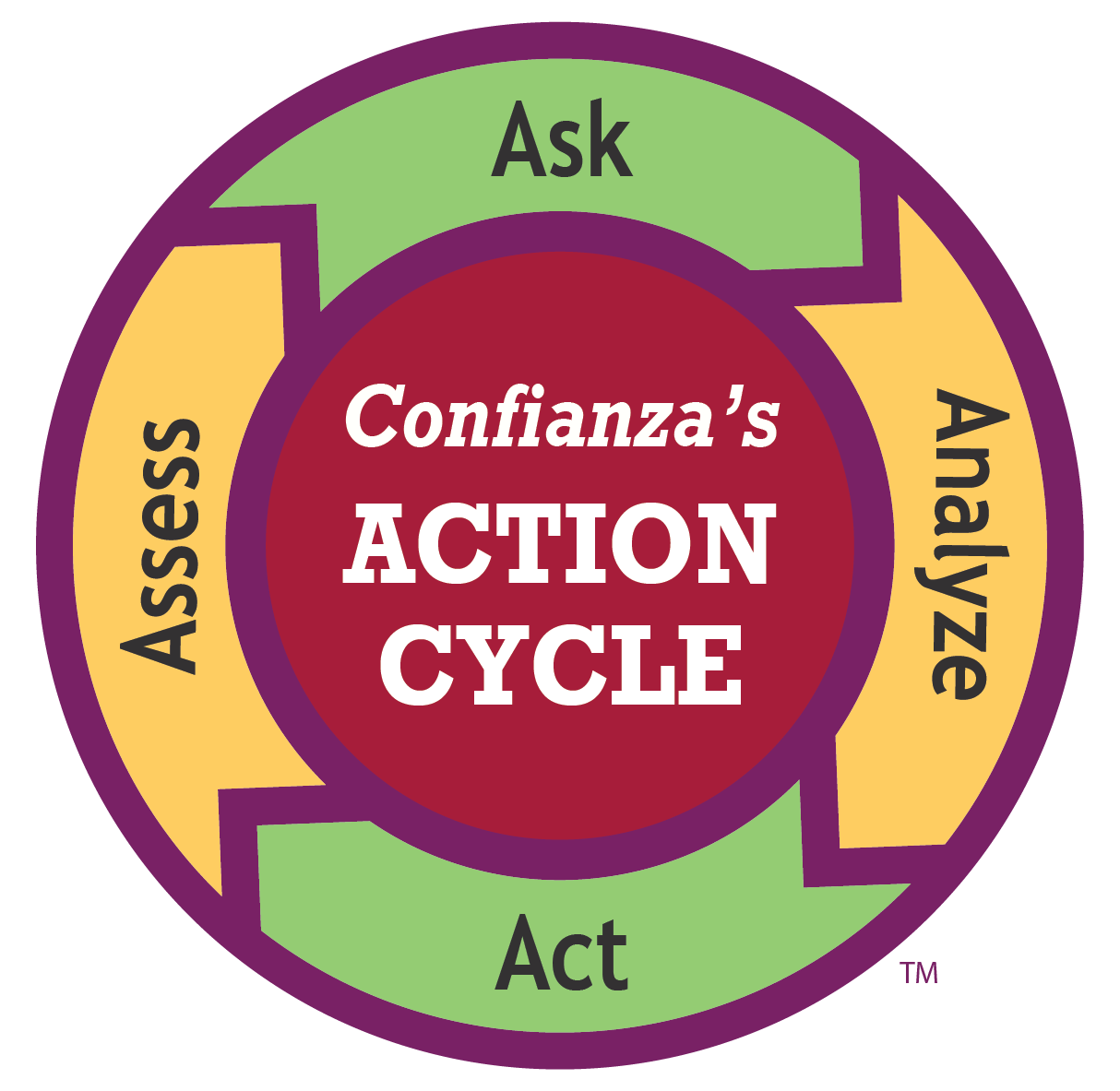 Confianza's Action Cycle for identifying opportunities for continuous improvement is at the core of our work (above).
---
The following excerpts are from Do You Trust Me?, a research project on Confianza by Joel Drevlow as a graduate student in Professor Lawrence-Lightfoot's course, Portraiture, a method of social science inquiry, is distinctive in its blending of art and science, aesthetics and empiricism at Harvard University:
"Sarah Ottow, Confianza Director: 'I'm not going to tell you what to do. I'm going to help you discover what you can do.'"
"They [Confianza's clients] have trusted her [Ottow] to lead this process, but she also trusts them to communicate those issues and goals most relevant and important in their own unique context. They [Confianza's clients] learn not through any prescriptive measures which she applies but through a conversation of shared experience."
"Its [Confianza's] mutual nature implies the respect and trust to allow its partner the autonomy do define it in their own terms, from their own perspective. In practice, this framework that places the elemental and foundational aspects of relationship as priority allows [Ottow] in interactions with both her clients and her partners at Confianza to create a framework specifically tailored to the unique context and perspective of the respective actor, asking what it is they need and trusting their perspective rather than ignoring their unique context and prescribing what it is they should do forging sincere relationships through the respect and trust offered from those moments of first impressions."
---